WE BUY AND SELL RARE COINS

HOUSTON COIN BUYERS


U.S. Coins and Jewelry has been the leading source for buying and selling rare coins in the Greater Houston Area for over 35 years.

At U.S. Coins and Jewelry, we buy a wide array of rare coins from across the spectrum, including: Gold Coins, Silver Coins, Numismatic Coins, Pre-1933 Gold coins. Plus, we also buy Gold and Silver Bullion and Paper Money of many denominations and grades. So if you have rare coins or a coin collection that you would like to sell, come to U.S. Coins and Jewelry
U.S. Coins and Jewelry is Houston's most trusted buyer of rare coins and coin collections offering you the best prices for your coins.
The U.S. Coins and Jewelry staff is as helpful as they are knowledgeable, offering you the best deals when buying your rare coins. Whether you're a long-term collector or have just inherited a collection, our expert staff is here to help educate you. Request an appraisal or stop by our store.
Buying or Selling Rare Coins, We've Got You Covered...
Whether you're an avid collector building your collection, a coin enthusiast browsing options, or someone who has recently inherited a large collection and wants to sell, U.S. Coins and Jewelry is Houston's most trusted source where valued coins are bought and sold! From rare and hard to find coins to collectible coins and coin sets, we buy and sell gold coins, silver coins, Pre-1933 gold coins plus a vast selection of high value certified collectible numismatic coins.
From raw and certified coins to a key coin that completes your collection, you can trust the team at U.S. Coins and Jewelry to give you top-notch service and the best quality for your money. Best of all, U.S. Coins and Jewelry is an authorized dealer with NGC (Numismatic Guarantee Corporation) and PCGS (Professional Coin Grading Service), so you know you are getting the best value for your coins.
We also stock coins for the entry level collector to the experienced rare coin enthusiast.
Phone: 713-597-6367
Email: [email protected]
Which Coins Are Worth Selling and Collecting?
At U.S. Coins and Jewelry, we like to help educate buyers and sellers, so we created some helpful information on how to buy & sell coins, understanding how the process works, and decoding coin lingo. Below, we have compiled useful information in our Appraisal Reference Guide, we hope will help you better understand the value of coins while making the appraising, buying, and selling process easier.

What are 90% Silver Coins?
Coins from 1964 and older in values of 10¢, 25¢, and 50¢ contain 90% silver content, so these coins have additional value. Everything minted after 1964 in 10¢ and 25¢ is worth face value.
Learn more about 90% silver coin values.
What are 40% Silver Coins?
Half dollar coins from 1965 through 1970 contain 40% silver. This is ONLY in 50¢ coins, all other coins after 1970 in 50¢ is worth its face value.
Learn more about 40% silver coin values.
Kennedy Half-Dollars minted 1965–1970, and 1976, as well as Eisenhower Silver Dollars minted in the years 1971-1974, and 1976.

War Time Nickels are 35% Silver. They were minted from 1942-1945 and can be identified with the mint mark located at the top of the Capitol Building on the reverse of the coin.


Key Date Hotlist:

Indian Cents (1859-1909): 1877, 1908-S, 1909-S
Wheat Cents (1909-1958): 1909-S, 1909-S VDB, 1914-D, 1922, 1922 No "D", 1924-D, 1931-S, 1955 Double Die
Buffalo Nickels (1913-1937): 1936 3.5 Legged Buffalo, 1937-D 3 Legged Buffalo
Mercury Dimes (1916-1945): 1916-D, 1921, 1921-D, 1941/2
Washington Quarters (1932-1964): 1932-D and 1932-S
Walking Liberty Half Dollars (1916-1947): 1916-D, 1921, 1921-D, 1921-S
Morgan Dollars (1878-1904, 1921): All Carson City (CC), 1893-S
Peace Dollars (1921-1928, 1934-1935): 1921 and 1928


EVER WONDER ABOUT HOW A COIN IS DESIGNED?
Designing a coin is more complicated than you might realize. There are many factors to consider on both the coins obverse (front) and reverse (back). To learn about the design of a coin, watch our quick video explaining the anatomy of a U.S. Coin.


Have questions? Talk to a coin expert.
U.S. Coins & Jewelry has the largest and most comprehensive rare coin showroom in the State of Texas. We're proud to be the most trusted coin and coin collection buyer in the Houston, Texas area. We buy:
Gold & Silver:

including bullion, gold jewelry, silver jewelry, scrap gold, collectible coins, old U.S. coinage, & more.
Platinum, palladium, and other precious metals: including coins, scrap, and bullion.
Coins: including U.S. and world collectible coins, NGC/PCGS graded coins, and entire collections.
Scrap Gold: we pay top dollar for your broken, damaged, or unwanted scrap gold and jewelry and pay you on the spot.
Before you submit, you can check to see see if your coin has value with our free coin Appraisal Reference Guide below. Also, we to provide an educational environment for our customers so below you will find helpful information on Coin Terminology, Coin Anatomy and so much more. Plus, don't forget to check out our coin collector blogs!

APPRAISAL REFERENCE GUIDE

Find out what coins are most valuable with our reference guide to help you quickly identify rare coins and prepare your coins for appraising and/or selling. See our online reference guide or stop by our store and ask for your FREE copy.

COIN COLLECTING 101

Have a coin question? Feel free to contact our store or read this useful blog on building a rare coin collection that includes commonly asked questions and things to know when starting a collection.



UNDERSTAND COIN TERMINOLOGY

We've compiled some basic numismatic coin terms and knowledge to help you gain a greater understanding of the coin market.

COIN ANATOMY AND GRADING MADE SIMPLE

Grading, which is also called certifying, slabbing, holdering, rating, or encapsulating, is when an independent third party views a coin (in person) and gives it a numerical grade.
Looking for Coin Collecting Supplies?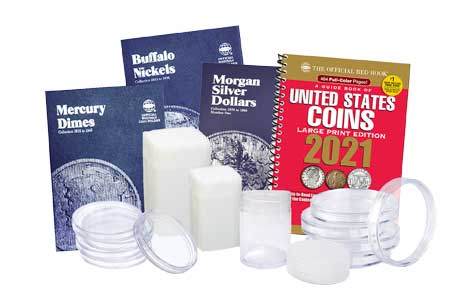 U.S. Coins and Jewelry offers the largest selection of coin supplies in Houston! Our wide variety of supplies aid in caring and storage of your coins. This includes a large number and variety of coin albums, holders, tubes and coin collecting books. Coin supplies are used not only to protect your coins but to display them for all to see. Visit our Store on I-10 in Houston between Voss and Bingle to get the supplies you need to keep your coins protected!
Ready to expand your coin collecting knowledge? We have compiled an extensive amount of information to help you gain a greater understanding of the terminology used in the coin market. Also visit our blogs section for detailed information about individual coins along with other collecting tips.