Owning a Rolex is not just having a luxury timepiece; it's owning a piece of horological artistry that is recognized worldwide for its precision, durability, and elegance. However, there comes a time when you might want to part with this luxury watch, whether to cash in on an investment, trade up for another model, or for other personal reasons. If you happen to be in Houston, Texas, selling your Rolex watch might seem daunting, but with the right knowledge, you can turn the process into a seamless and rewarding experience.
Understanding the Value of Your Rolex


The first step in selling your Rolex is understanding its value. Factors that influence the price include the model, age, condition, rarity, and the current market demand.
Model: Rolex produces a wide array of watch models, some of which hold their value better than others. For example, the Rolex Daytona, Submariner, and GMT Master II are known for their strong resale value.
Age: Vintage Rolex watches, especially those in good condition or with a unique history, can fetch a higher price.
Condition: The watch's physical condition significantly impacts its value. An undamaged watch with its original parts will sell for more.
Rarity: Limited edition models or those with rare features are typically more valuable. Take the 'Paul Newman' variant of the Rolex Daytona Ref. 6263, with its distinctive art deco style numerals and contrast color sub-dials. It has consistently proven to hold its value due to its rarity, iconic design, and association with the legendary actor Paul Newman. In fact, Paul Newman's personal Daytona Ref. 6263 sold at auction for a record-breaking $17.8 million in 2017.
Market Demand: Current trends and consumer demand can also affect the price of your Rolex, especially in the post-pandemic market. For example, the Rolex Submariner Ref. 126610LV, aka the "Starbucks" for its green bezel and black dial, was released in 2020 amid the pandemic. Its retail price was about $9,550, but its high demand and limited availability have driven prices up on the secondary market, with values currently ranging from $15,000 and above.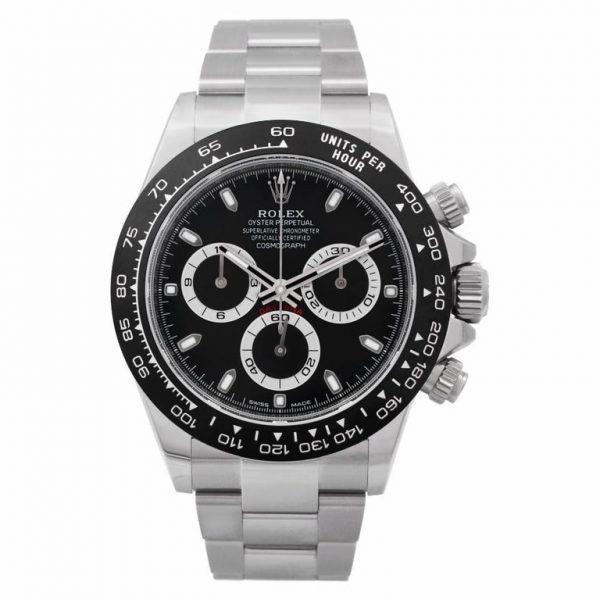 A 2022 Rolex Daytona 116500LN 40mm
Should I Get My Rolex Appraised Before Selling It?


When selling your Rolex to a reputable watch dealer, there is no need to spend money with a third-party appraiser beforehand. Watch dealers are watch experts, and they can value your watch in-house and typically make you an offer on the spot. Even if you did get your watch appraised beforehand, oftentimes appraisers issue an appraisal with a maximum retail-replacement value which is to be used for insurance purposes. What you'll need is a fair-market value appraisal, which you're going to get from a watch dealer when selling your watch.
Where to Sell Your Rolex in Houston, Texas


While a city the size of Houston has numerous avenues for selling your Rolex, it's important to note that U.S. Coins & Jewelry have been buying and selling luxury watches for over 35 years in the Houston market, as well as nationwide. It is Houston's #1 trusted dealer for buying and selling Rolex and other luxury Swiss watches.
Negotiating the Sale


Price negotiation is part of the selling process, but it is important to also be realistic about your watch's worth. To know your Rolex's value, comprehensive research on the current market prices for similar models in similar conditions is recommended. It will set a benchmark for your asking price and help you negotiate from a position of knowledge.
Price your Rolex reasonably to attract potential buyers. If your price is too high, it may deter interest. However, you don't want to set it too low and undersell either. A realistic price leaves room for negotiation while ensuring you get a fair deal. Always consider the buyer's standpoint during your negotiation. They're likely looking for the best deal possible, just as you are. Being empathetic and flexible can help facilitate a smoother negotiation process.
Conclusion


Selling a Rolex watch in Houston, Texas, doesn't have to be a daunting task. By understanding the value of your timepiece, doing comprehensive research, and exploring the right sales avenues, you can secure a satisfactory deal for your Rolex. Always remember, the reputation of the buyer, whether an individual or a company, is paramount to ensure a fair, secure transaction.