(Houston, Texas) – A unique pack of $500 Federal Reserve Note has been obtained by U.S. Coins and Jewelry and it has caught people's attention. Considered to be the only high denomination full pack of U.S. Federal Reserve notes, the group was encapsulated by the Professional Coin Grading Service (PCGS). The notes were part of the 1934B series and the significance of the pack intact had the world's premier collectibles grading company asking to maintain possession after certification. They placed it on display at a recent major national collectibles show in California, as part of their promotion for a new paper money service. It worked by creating quite a buzz being picked up nationwide by various publications. It is truly a one of a kind and a spectacular piece of paper money history.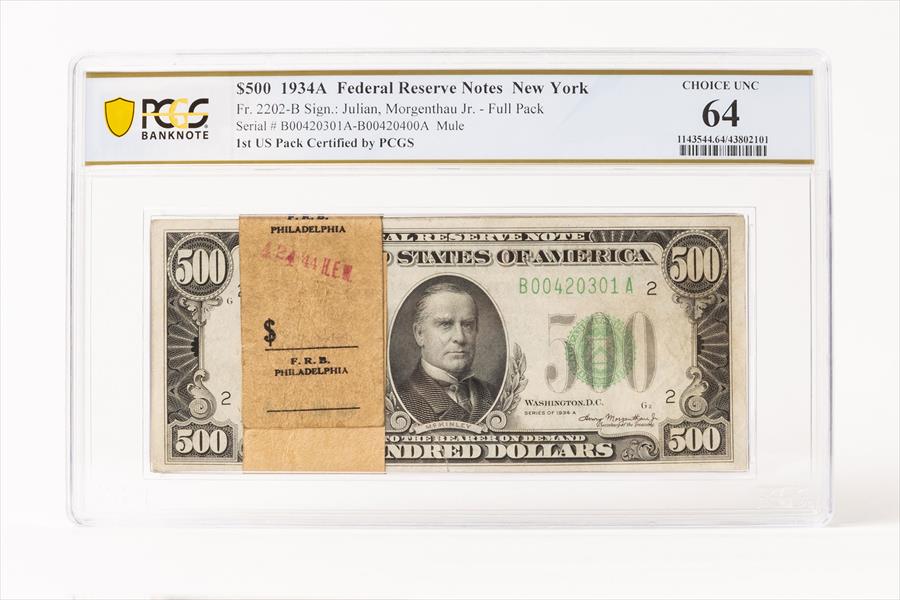 For an item like this to have survived intact, the group likely was held in a bank vault for decades, eventually finding its' way into a private collection. The face value of a full pack of $500 bills is $50,000.00 a lot of money at the time of issue. The buying power of this in 1934 was well over a million dollars, so trading the pack even at face value wasn't a common thing. Full packs are scarce with most twentieth century bank packs of any denominations have been lost to the ravages of time. Combine this with the high dollar denomination of the bills in this bundle, and it is easy to realize the magnitude of this surviving intact. It is simply unprecedented.
PCGS President Stephanie Sabin said, "It could be the one of the rarest and most valuable banknote packs." The nation's top collectibles certification company was excited to certify the pack, using it kick off their newest service that allows encapsulation of full and half packs of consecutive paper money. The notes were showcased at their booth during the recent Long Beach Coin and Collectibles show.
With provenance to the Taylor Family Collection, this group of $500 bills has been known to industry insiders as the collection was (to date) the most valuable paper money collection to ever hit the auction block. The announcement of the bills resurfacing and their subsequent certification has raised interest industry wide with reports of the pack appearing in Numismatic News, CoinWeek.com, U.S. Coin News, Coin News and other industry publications.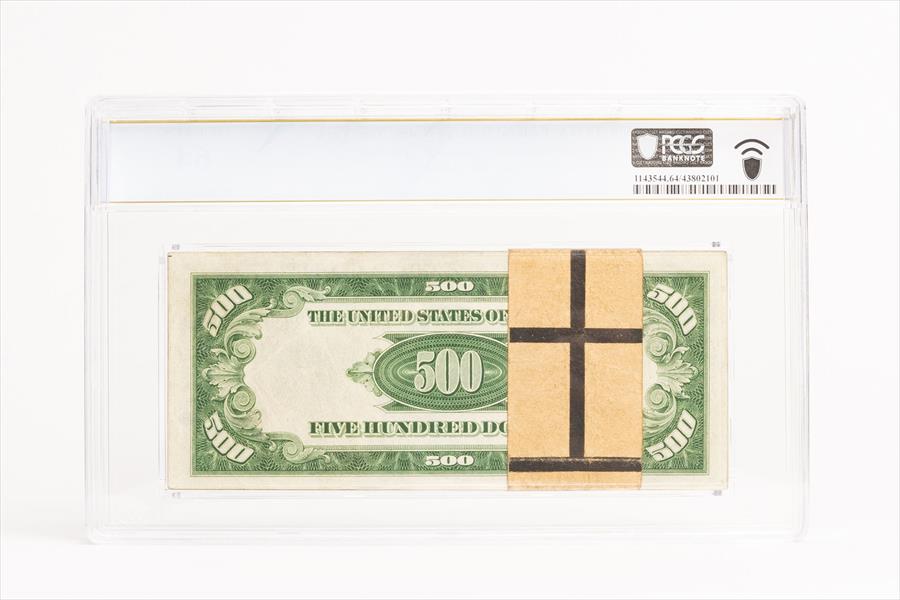 "It is astounding that an original pack of 100 $500 notes with a combined face value of $50,000 survived since the Great Depression era. According to the U.S. Treasury Department, the average annual salary in the United States in 1934 was less than $1,400. In 2022 dollars, that $50,000 pack would have been worth the equivalent of about $1 million when the notes were printed," said Matthew Duncan, an owner at U.S. Coins and Jewelry. "We are delighted that these are the first banknotes certified as a pack by PCGS."
For a glimpse at this or any of the thousands rare paper money offerings we have in stock, visit our storefront located at 8435 Katy Freeway or visit the website for a myriad of collectibles from paper money to diamond tennis bracelets. If you're looking to buy paper money, U.S. Coins and Jewelry has Houston's largest paper money inventory. If you're looking to sell, we buy all collectible paper money from used red seal $2's to unique full packs of $500 Federal Reserve Notes.