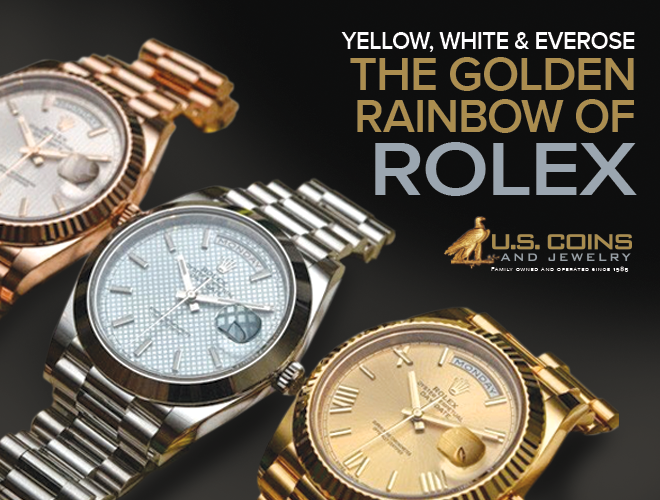 The term "carat" is grade designation that indicates the purity of gold. 24ct is 100% gold. In this purest form gold is too malleable for most functional uses. Jewelers and watch makers rely on a mix of alloys to create 10ct, 14ct or 18ct gold creating harder versions of the precious metal. In general use, copper, nickel, silver, platinum or palladium are incorporated with 24ct to create the various colors of gold – yellow, white and pink. The compositions are tested by assayers and finished products will receive hallmarks or assay markings to designate purity. With Rolex, none of this is left to chance. Rolex performs the blending, casting and assays on site.
The properties of the gold alloys are dependent on all the processes that go into the final achieved golden mix. The qualities of the finished products are dependent a number of factors from the quality of base metals to the temperatures and cooling processes used. During the early part of this century, Rolex installed their own private foundry. In step with their constant goal of perfection, they developed rigorously refined processes for creating the alloys, and casting and their cases and making the gold hands and indices. Rolex controls all these processes to create the finest precious metal components in the world.
Beginning with the molten pure gold, specially trained foundrymen make the various golden alloys using specially sourced metals. It is because of this acute control Rolex watch cases are known world-wide for superior sheen, hardness and durability. With the use of closely guarded formulas, Rolex creates brand specific metal compositions that are blended to exacting specifications determined by decades of study and tested to ensure nonpareil quality control.

Yellow Gold



The 18ct gold used in the various yellow gold watches is created from start to finish at the Rolex facilities in Bienne, Switzerland. The process begins with beads of pure gold, and blended to .750 pure gold with exacting amounts of silver and copper infused to insure hardness and durability. The gold is then used to created the cases, watch backs and bracelets used exclusively by the brand. Buyers know when they purchase a gold Rolex they're getting more than a wristwatch. A timepiece that is not only durable but one that will not tarnish and will maintain its sheen for generations.





White Gold


Rolex is highly secretive about their processes. White gold is achieved by the addition of quantities of silver and copper to achieve a lasting white gold that is resistant to corrosion, yellowing and other ravages of time. The sheen and color of white gold is ensured by Rolex professionals assuring quality control from foundry to functioning wristwatch. The use of white gold adds a more vivid and luxurious polished metal than even the Oystersteel used by the brand.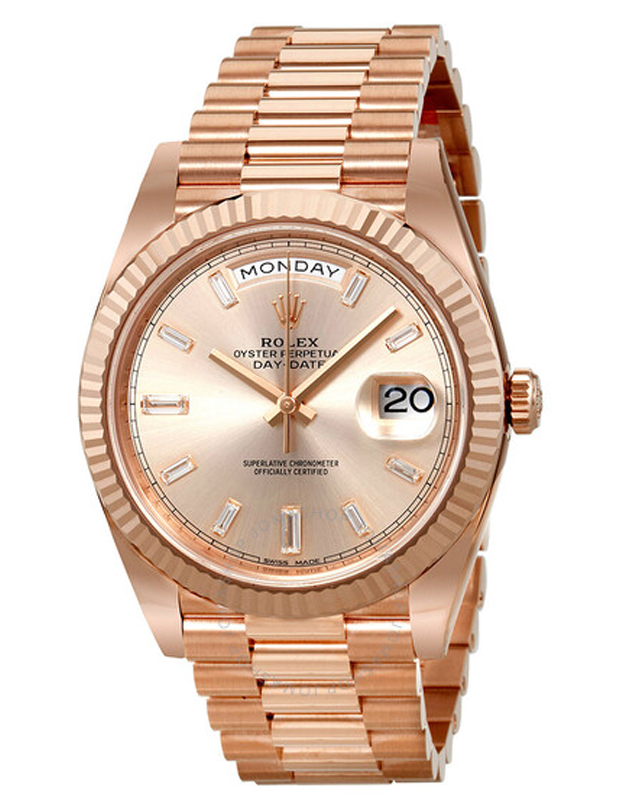 Everose


Rose colored gold is achieved by the addition of copper in the 18ct mix. The red metal adds the rose color, but creates an alloy that is less corrosion resistance and tends to fade. To combat these environmental ravages, Rolex created Everose their proprietary rose gold. It uses a brand specific blend of 76% percent 24ct gold and a secret blend of copper and platinum to achieve alloy that will hold its color for generations. Unlike its competitors, Everose is specifically formulated to maintain its hue and resist corrosion. Rolex is the only watch maker with their own foundry and they use it to ensure their cases and components are made to manufacturer specifications. Everose is one of their foundry's crowning achievements. It is patented and used exclusively by the brand to ensure lasting beauty and durability.
The quality of the three colors of the Rolex golden rainbow is assured through exacting specifications, with everything controlled in house except the extraction of the precious metals from the ground. The use of the metals is not exclusive to the case, but any gold hands, bezel and indices on the dial are made with the proprietary blends mentioned above. Understand that when you purchase a Rolex, your quality is simply golden.
Rolex continues to redefine the industry and their commitment to quality is no more evident than in their gold. At U.S. Coins & Jewelry our commitment to honesty and service mimics the standards put forth by our favorite wristwatch brand – Rolex. We stand behind all our wristwatches with an unconditional guarantee. We offer an extensive line of luxury brands, but specialize in the brand known as the epitome of quality and luxury. If you're in the market for a new piece, or looking to sell an old one, stop in and speak with one of our qualified staff.