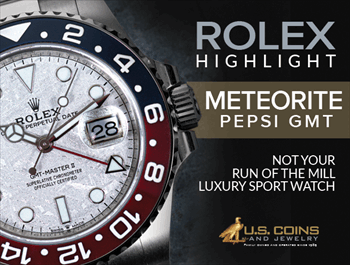 The Rolex Meteorite Pepsi GMT is not your run of the mill luxury sport watch. Of course it has all the trappings inherent to the Rolex GMT Master line with 100 meter water resistance and Swiss Superlative Chronometer Certification. It's understated white gold and sporty red and blue bezel gives this watch the look like any other high end diver. But under closer inspection it is likely the most desirable time-piece from the world's finest watch maker to be offered in the last few decades. Introduced in 2019, it combines the top of the line quality of the GMT Master, with an extremely limited production run and the visually unique meteorite dial. For lack of better descriptions, this watch is out of this world.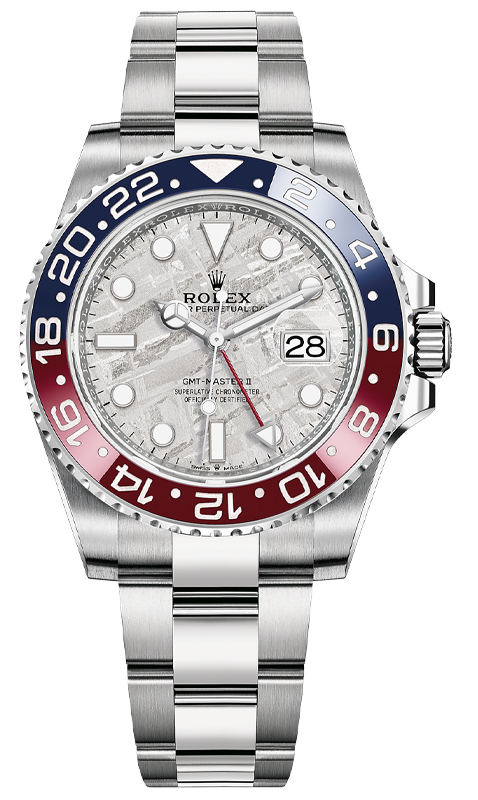 First, the GMT Master II is exquisite in its own right. The case is 40mm white gold that looks bigger when worn. The perfect size for both big and smaller arms it is comfortable for a diver at 12.2mm in thickness. The bezel is precious metal on precious metal made of white gold with a platinum coating to preserve sheen and create a resistance to tarnish. The blue and red "Pepsi" bezel is made of Cerachrom, Rolex's proprietary fade resistant ceramic that is virtually impervious to scratching. The case has brushed top and polished outer faces with tapered lugs with crisp edges providing a visually stunning contrast when turned on the wrist. The Oystersteel band compliments this with solid ends connecting brushed outer links juxtaposed to the polished centers. The watch is secured with Rolex's two lock latch system featuring a tool free easy link adjustment.
Inside, this watch is everything you've come to expect from the Rolex family. The Calibre 3285 features their 31 jewel movement housed in a shock resistant casing. The balance offers bi-direction winding and the escapement is made with a magnetic resistant hairspring to create one of horology's most accurate movements. And while the GMT Master II is an incredible wrist watch in its' own right, the Rolex Meteorite Pepsi is so much more.
To fully appreciate it one must delve into a realm that sounds like pure science fiction. Image an asteroid hurling through the expanse of space that encounters our solar system. By chance it enters the gravitational pull of Earth. The ferrous meteor enters our atmosphere in a flash of intense heat and the remaining rock slowly cools after striking the planet's surface. This epic journey causes the interior iron and nickel to crystalize into kamacite and taenite. Rolex sources these rare meteorites, cuts a thin dial planchet which are then subjected to a heat and a chemical bath. The crystals form a tell-tale crisscross marking known as the Widmanstätten pattern. The dials are rhodium coated for durability and added luster. The lettering and white gold indices are added creating the individually unique meteorite dials. These dials are paired with one of the finest movements in the industry, placed in a case that will last for generations and create a time piece that is literally extraterrestrial.
We are proud to offer this Rolex Meteorite Dial GMT Master II. There will only be an estimated 900 – 1200 offered by Rolex worldwide annually, and production will only run for a few years. As stated this is one of the rarest production models from the finest watch maker in the world. At U.S. Coins and Jewelry we feel lucky to offer this chance of a lifetime piece. Whether you're in the market or just an enthusiast, stop by our store and check out this marvel of horological art. We have for decades worked diligently to provide a wide range of luxury watches, and we consider this one of our crowning achievements and that crown fits like a Rolex.