Three Basic Watch Styles and When To Wear Them
Like potato chips, one watch is simply not enough. If you're looking to buy a luxury watch, go where the pros go. Houston area high end watch buyers have known this for years, but the secret is out. U.S. Coins and Jewelry carries a full line of new and used luxury watches to help fill out the finest of watch enthusiast's collection.
With our large inventory, choice can be an issue. But if you're looking to buy a watch our qualified staff can help you choose wisely. To narrow down your choice we often advise having an example of each of four basic types. This can keep you covered for any occasion.
Most modern men don't wear a lot of jewelry and the watch can make or break your look. Price and name brand doesn't make a watch dressy. The big dive watch in a dress suit doesn't pair well. And that Patek Philippe is beautiful but just isn't appropriate for a nature hike. The wrong watch can send the signals labelling you as a novice, uncouth or even nuevo riche. Face it, James Bond looked great in that Submariner and black tuxedo. But you're not Bond, and most fashionistas would just roll their eyes if you tried to pull that off.
So, if you're looking to buy a new watch, diversification is the key. The right choice can round out your wardrobe keeping you in style regardless of the event. At U.S. Coins and Jewelry we constantly stock a wide range of luxury watches from which to choose. Our experts are ready to assist you with any and all questions whether you are looking to buy, sell or trade any luxury brand. Before you buy or sell a watch, let's review three basic styles of men's luxury watches; dress, sport, and work.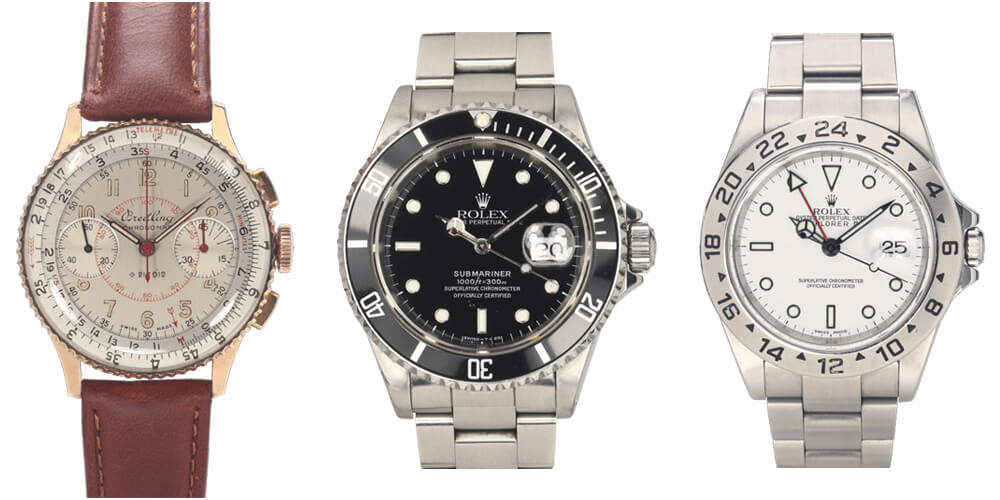 From left to right - Breitling Chronomat, Rolex Submariner, Rolex Explorer II
Dress Watches – The dress watch is usually the finest piece in one's watch quiver. These watches are thin and elegant with easy to read dials. It should fit smoothly beneath the cuff of your sleeve. The bands are usually leather, sometimes metal, but never cloth or rubber. There are a proliferation of models to choose from a fine dress watch can be either metal bracelet or leather. The cases can be of any metal generally they are made of white, rose or yellow gold, stainless steel or platinum.
Sport Watches – Many break the sports watch category into various groups. There are dive watches with bezels to monitor tank usage. There are various chronograph watches designed with motorsports in mind featuring tachometer bezels. Aviator watches feature easy to read dials and some with GMT complications. Regardless of your activity, sport watches are design to withstand the rigors of movement while providing complications that enhance our experience.
Work Watch – Contrary to what is commonly said, the work watch isn't the "beater" of the collection. It is something more durable and legible than your dress watch. The work watch should be designed to take a beating like the Rolex Explorer, but it isn't necessary. The aviator and field watches are built with a purpose fit well in this category.
Ultimately this is a loose categorization with many examples arguably crossing between categories. Some could argue that the fitness watch should be included in this list. Surely these devices have their place in the horological universe. But, U.S. Coins and Jewelry is Houston's top buyer and seller of luxury watches. We buy and sell only select high quality luxury watch brands. Everything we offer comes with our guarantees. And, we do not traffic in fit-bits. We'll mention it here as a nod to their popularity. Their use of real time data can be a valuable component to a rigorous fitness regime. But outside the gym, they offer little in the way of panache. Besides, much of this data is captured and stored by your smart phone already. This leaves the wrist open for something much more stylish.
All in all, it's easy to fall in love with a single luxury watch. But having few select styles makes it easy to execute proper etiquette that elevates your style quotient. If you've reviewed your Spring social calendar and suddenly realize you need a fresh watch for that upcoming event, U.S. Coins and Jewelry is conveniently located at 8435 Katy Freeway in Houston. Our trained staff can walk you through multiple choices. At USCJ you can buy with confidence, all our watches come with our iron clad two year warrantee. Or, bring in that old watch for a free quote from one of our watch buyers. Best yet, find something you like online, and visit our store to try it on.